Wawa News

"Sled Sense" Films in Wawa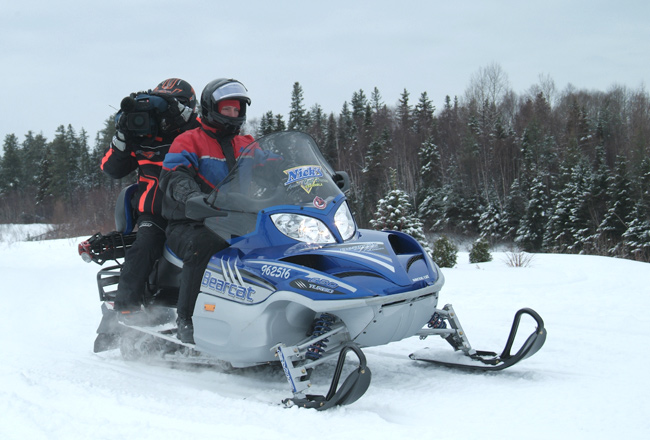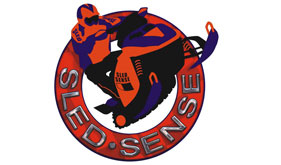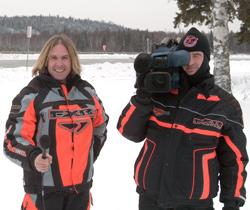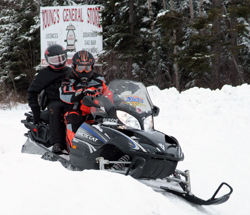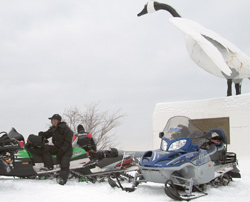 Kevin Cullen, host of Sled Sense spent the past weekend sledding and filming in Wawa and the area.
Sled Sense is a half hour show currently being carried on the Outdoor Channel 2HD (in high definition TV only) which offers viewers the finest in snowmobile sports adventure. Hosts Kevin Cullen and co-host Brian Koster (unfortunately unable to participate in this adventure) take their viewers to the best snowmobiling destinations on the planet.
Kevin and his cameraman Mark began their adventure in Spanish, Ontario with Bryan and Judy Pacello. Bryan and Judy offer guided snowmobile adventures (Come Play in the Snow), with one of their favourites being their journey from Sault Ste. Marie, ON to Wawa, and back to the Soo via the ACR's Snow Train. With the length of the trail from the Soo to Wawa, the crew of Kevin, Mark, Bryan, Judy, and a handful of friends, they overnighted Thursday at Halfway Haven. Friday saw them on the home stretch into Wawa. Greeted by Willy Smedts (Bristol Motel) and his daughter Karen, they made their way into town, and a delicious dinner at North of 17.
A technical difficulty with a battery charger on Friday made for some delays during the filming from Halfway Haven to Wawa; but with Greyhound Bus Lines to the rescue, the "crew" was back on schedule Saturday.
Saturday afternoon was "fun", playing in our snow without the cameras, but all was not fun and games over the weekend. Kevin spent a good amount of time interviewing, and discovering just what makes Wawa a good destination for snowmobile adventuring. Willy and Lori Johnson spoke passionately about our trail system, and the beauty that we "locals" see on an every day basis.
During their visit, the "crew" enjoyed not only the trails but the hospitality that can be found in Wawa. They also enjoyed the burgers at Hawk Junction's Big Bear Hotel. It is said that they found the burgers so good, they even photographed them!
They are headed to Hawk Junction this morning to load up their sleds on the ACR Snow Train, and then heading back to the Soo. From the Soo they are headed to their studios in Southern Ontario, where the footage will be edited and prepared for broadcast.
For those of us in Canada who cannot receive the Sled Sense broadcast, there is another way to see it. The Sled Sense website offers for purchase all of their 1/2 hour shows. You may choose to download a QT movie of the show, or download the show, burn it onto a DVD and watch it on your TV at your leisure. It is also possible to see other snowmobiling destinations, because after Kevin is finished in Wawa, he and Mark will be heading on to British Columbia, and then Iceland to film more shows.