Letters from 2008 Snow Tours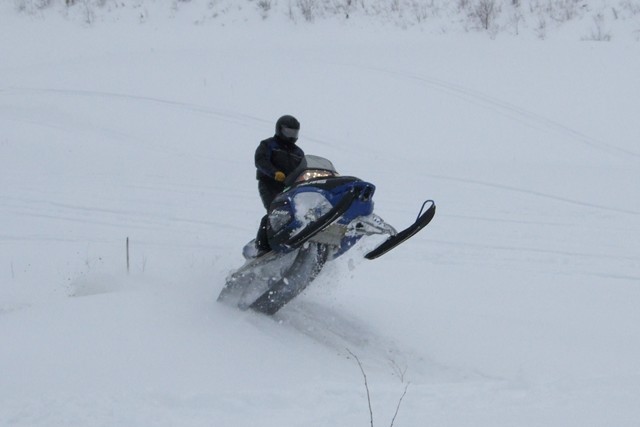 From Nicole Kunz
To my Come Play in the Snow friends-
I just wanted to write a letter to thank you all for yet another wonderful trip. This was our 3rd trip with your company, and the great organization, fun times, perfect trails, and fabulous support we have come to expect-were once again the 'norm'.
The best thing about these trips is the fabulous organization. I know I just have to show up and everything will be taken care of. My room reservations are handled and I don't have to worry about that. My bags are taken from point to point for me, so I don't have to carry a week's worth of stuff w/ me on my sled. Breakfasts and dinners w/ the group are always fun... whether we're talking about the day ahead, or rehashing the fun we already had that day over drinks w/ dinner- there's never a dull moment. Not to mention, the peace of mind knowing that we're being led by an extremely experienced rider- who knows the trails, the towns, the people- like the back of his hand. If there's a problem (which unfortunately this year, we had a few sled issues)- Bryan gets in touch w/ the support trailer to let him know what's going on. If he had to meet up w/ us to pick up a broken machine, that went quickly and we were back on our way. If it was a quick fix, we were at a dealer and again back on the trail in no time. It really is a chance to just enjoy the sport, on some amazing trails, and not have to do any running around. You can sit back, relax, and just enjoy yourself.
So thanks again for yet another wonderful trip. We will definitely be back at some point in the future. We'll probably be busy w/ a newborn next year, but don't worry- we'll be back at some point. In the meantime, I always recommend your tours to anyone who's thinking about heading north of the border. I really think you guys do a fabulous job and hope to see you all soon!
Thanks!
-Nicole Kunz
---
Dear Bryan & Judy,
The "Martin Luther King Fun Run" was another great run. It's as hard for me to pick a favorite part of this trip, as it is to pick a favorite trip out of the ones I've taken with you since my first in 1994. I guess, as in previous years, my favorite trip is always the last one because it's the freshest in my mind. The accommodations are always great, whether it's the rustic hominess of Halfway Haven or a new hotel like the one we stayed at last year in Moose Factory while on the "Touch The Edge of the Arctic" run. It's also hard not to mention the congeniality of Willy & family at The Bristol Inn in Wawa.
The food is always outstanding, Gail's New York Strips at Halfway Haven and the pan fried pickerel at Aux Trois Moulins come to mind immediately.
The "North of Superior Loop" ranks as one of my favorite runs, but what stands out most is the camaraderie and friendships that have developed over the years with the other riders and the ones that we've reacquainted ourselves with on subsequent trips. Also the diversity and age of the riders stands out. Such as this year when you had Joe and I representing the seniors, recently joining the leisurely riders group, to Dan and Steve in the hard riders group, and the young couple all the way from California who had never ridden before. This is the smallest group I've been with, unlike last year, when we had nineteen riding over 250 miles mostly on the river up to Moosonee.
Another thing that stands out is the small number of breakdowns that occur on these trips. I would have to say the condition of the trails has a good deal to do with this. This year we were the first to enjoy some of these trails. Our second day out we ran easiest 200 plus miles I've in almost forty years of riding.
If there is a breakdown, we always have Jamie and his trusty "mule" to help us out. Last year, the zipper on my pants leg broke as we were leaving Wawa. Grey tape took care of it till we got to Hearst. Jamie found the only pair of XXXL pants in town and at a sale price!
There are all sorts of stories I could get into and if we threw in a couple of other people that have been on any of your trips, we could talk for a month.
This letter is just my way of saying "Thanks For The Memories" and thanks for being my friends!
Affectionately yours,
Milt Karesh
---
Bryan & Judy;
Hello, how are you guys doing? I hope that this finds you all doing well. I just wanted to take a moment and share a few things with you. I just got the pictures back from my fourth trip with you guys, what memories it brought back.
This was the first year that I stayed the night at Halfway Haven, stopped for lunch there several times, but never stayed the night. It was so relaxing sitting in the lodge area by the fire, and helping yourself to whatever you wanted. I truly enjoyed it there. The owners made me feel like part of the family.
The Aux Trois Moulins in Chapleau was fantastic. I sat in the sauna for a bit, and then later got to visit the masseuse, what a job she does working out the little kinks. The Bristol motel in Wawa was as friendly as ever.
I must tell you that you guys sure make it a worry free vacation, knowing that all the sleeping arrangements are taken care of, having Jamie bringing the trailer to each location should the ugly happened to your sled, picking up anything that you need or want.
I am already looking forward to next years trip, but would like to do a five day ride as four days just wasn't enough. Thank you again for a great vacation!
Thanks,
Steve Herte
p.s. Interested in the Aug 02, 2008 ATV trip. when would the monies for this trip be needed, down payment, etc. how far is Massey, Ontario from the Sault time wise that is. several people are again interested, but we will see come money time.
---
Brian:
I wanted to let you know how much Matt and I enjoyed the tour. I don't have to say how great the trails and scenery were-that's a given.
But I want to tell you how well it was organized and how much help Jamie was. The motels and food were great.
If possible, I hope to come back again.
Thanks for a great week,
Ron Eisenhauer
Machesney Park, Illinois
---
I just wanted to say Thank You to your entire staff (all 3 of you) for putting on a great trip. My friend Dave and I went on the Illinois trip along with 10 other guests.
We really didn't know what to expect, and came with no pre-conceived ideas of what was going to happen. We were pleasantly surprised by the beauty of Ontario, the quality of the snowmobile trails, and the friendliness of the people we met.
Brian was too much fun! He made taking the responsibility for 12 strangers look so easy. I am sure he has his moments when the job is tough, but we sure didn't see any negative emotions or actions, even when we had machine breakdown or the time I decided to go mountain climbing and got stuck up on the hill.
I also can't say enough about Jamie. He was always there for everyone, and took care of us like family. I was very comfortable knowing I was in good hands the entire time.
I would like to make one suggestion, and that is that in my opinion, it would have been nice to know some information about the places we visited, either before or after we were there. A little talk about the history, geographical information, the native peoples, and things like that would have made the trip more fun for me. Perhaps not everyone wants this, but I would have.
Another suggestion would be to tell everyone before they get there that helmets are required by law. Where I live they are not mandatory, and I did not know about your laws until after I unloaded to get fuel and was issued a ticket. Knowing about the laws ahead of time would have saves me $110.00. The one good thing is that it gave the group something to talk about on the very first night, and throughout the trip.
Again, thanks to you all. Dave and I are hoping to do another trip with you in a couple of years, and I talked about your business at my last snowmobile club meeting. There were a couple of people who seemed very interested, and took your brochures / maps home with them.
Scott Schlendorf
Harvard, Illinois
---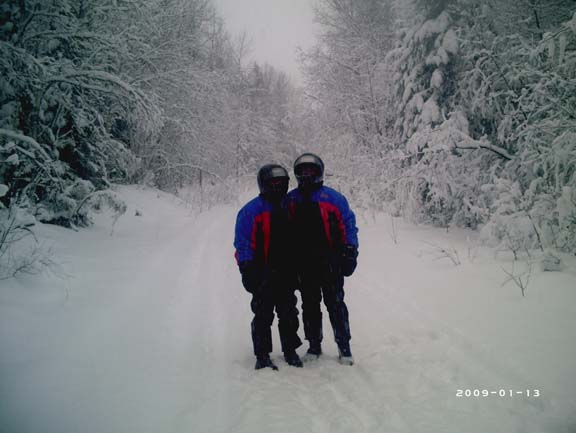 Bryan,
Thank you so much for our wonderful vacation this year. Jim and I love to try new things, and this snowmobiling vacation was definitely an exciting new experience.  We can't wait to make our way all the way from California to join your ride again.
From the moment I contacted you, I knew it would be a great vacation You and Judy were very quick to get back to me via email and answer all of my many questions. As a first time snowmobiler surprising Jim with this trip, it was extremely helpful to have you two walking me through everything I needed to know.
All of the places that we stayed overnight exceeded our expectations.  Halfway Haven was our personal favorite; the food, the staff, the ambiance...everything in Halfway Haven was great. We especially enjoyed the outdoor hot tub, something we've never done! I also enjoyed the masseuse at Aux Trois Moulins Chapleau, and the very friendly staff at Bristol Motel in Wawa. Oh, and we can't forget our favorite lunch stop @ Ernie's in Missinabie. Everyone was SO friendly everywhere we went!
To top it all off, the trails and snow were absolutely perfect. We are novice riders, but we do know how lucky we got with all of the fresh powder to play in.  I also really liked the design of the vacation, particularly that the first day was a shorter ride to let us get used to the sled, then the other days were longer rides.
And, of course, we can't forget how wonderful and friendly Jamie was. He really looked out for us and ensured that we had nothing to worry about. He helped us just sit back and enjoy our trip.
Bryan, you really went above and beyond to make our vacation really special. Jim and I were so impressed, we could really feel that you wanted to give us the best vacation possible. We appreciate everything you and your crew did for us.
Hope to see you next year!
Shelly and Jim
CA USA
---
Hi Bryan,
We all enjoyed our New Year's snowmobile holiday with you and it was a real pleasure to meet Sam and Taylor and have them join us --- a true family vacation. It was a shame that you were not feeling 100% after your bout with pneumonia and I hope you have now fully recovered.
The accommodations were very nice and the folks operating these hotels were very kind and hospitable. Should the occasion arise, I would not hesitate to stay at the same places again. The welcome note and peppermints in our room at the Bristol were a delightful surprise, and also the goose pins as a Thank You when we left Wawa. New Year's Eve at Halfway Haven was a lot of fun for all of us, and the food and good company were superb.  The trails were good but we hope that next time, the scenic views will be less 'blizzardy'!! Chris was particularly pleased that I let him do all the driving (a real boost to his ego, I think!). We were a little disappointed that we didn't have lunch along the trail on the way home. It's something that Glenn and I used to do quite often and the boys were looking forward to experiencing it. Overall, though, the rides were fine and we felt we had spent just long enough "in the saddle" each day.
Our photos did not turn out very well from the trip (perhaps from the cold or low battery issues) but we have great memories. Please say hello to Sam, Taylor and Jamie from all of us, and we hope we can join you again sometime on another tour.
Yvonne & Glenn
---
Bryan,
Jim and I both had a great time on our trip. The motels you picked were great, the people we met at the various motels could not have been any more pleasant. When we were trying to decide which one of your trips to choose we wanted to make sure we would do a good amount of riding each day. Let me tell you we were not disappointed. You have one organized operation.
We enjoyed all the various towns. The heated garages were a real plus. The food was great. Being able to order off the menu was also an unexpected plus.
I guess the only disappointment was that I was not able to eat at "Johnny's" because of the cold weather and maybe a rough trail here and there because of broken down groomers.
I'm sure we will be back next year. We are going to try to co-ordinate our trip with Steve and John from Pennsylvania next year if it can work out for all of us.
Thanks for the great time,
Denny Jungman
---
Hi Brian,
While it is fresh on my mind I thought I would thank you for the excellent trip you planned for us ! Accommodations were great Trails were even better and the scenery was out of the world! Best riding I have experienced ever. Trails were well marked,( needed a little better ) signage as we got to the main Towns, however nothing that wasn't so bad that anyone got lost or anything you could have done better yourself.
You have a beautiful country, we will return soon!
Thanks again I had an Awesome experience.
Chuck Kranzusch
Appleton Wisconsin